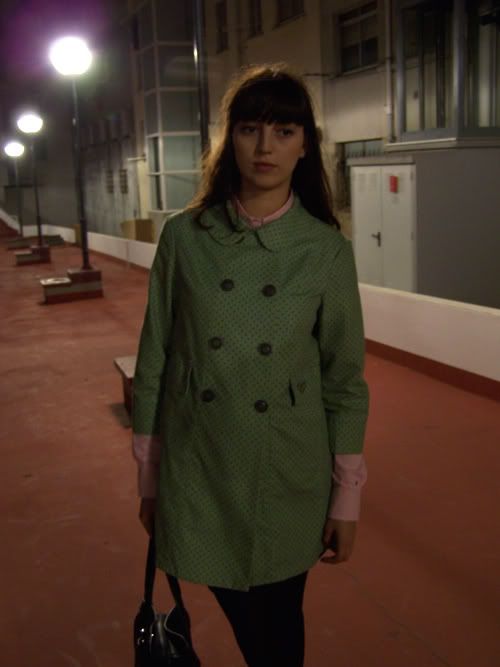 ¡Tenéis que perdonar la cara de cansaaaada que tengo en las fotos! Estaba realmente soñolienta, aunque tuve un sábado muy agradable. Ruta de senderismo y más tarde a cenar a nuestro restaurante chino preferido. Probamos un plato nuevo que no sé si está más o menos "estandarizado" en los sitios de comida china, pero está delicoso. Se llama Ku-Bak y consiste en una especie de arroz, ¿deshidratado quizás? no lo sé exactamente, al que se le echa por encima una salsa hirviendo y se cocina instantáneamente. O algo así jeje. Todo el proceso delante de una. ¡Os lo recomiendo!
(Please forgive my super tired face in these photos! I was really sleepy altough I had a very nice Saturday. We went hikking and later went to dinner to our favourite chinese restaurant. We tasted a new course I don't know if it's "standardized" in chinese food places, but it's delicious. Its name is Ku-Bak and has some kind of rice, ¿maybe dehydrated? I'm not very sure, which is sprinkled with a piping hot sauce and it gets cooked instantly (or something like this haha) before your eyes. I recommend it to you!).
Aquí me veis con mi impermeable y mis segundos zapatos favoritos. No se ven muy bien, pero son unos Camper fabulosos con los que me hice en las rebajas del pasado invierno.
(Here I am with my favoruite raincoat and my second favourite shoes. You can't see them very well, but they are a fabulous pair of Camper I bought last winter sales).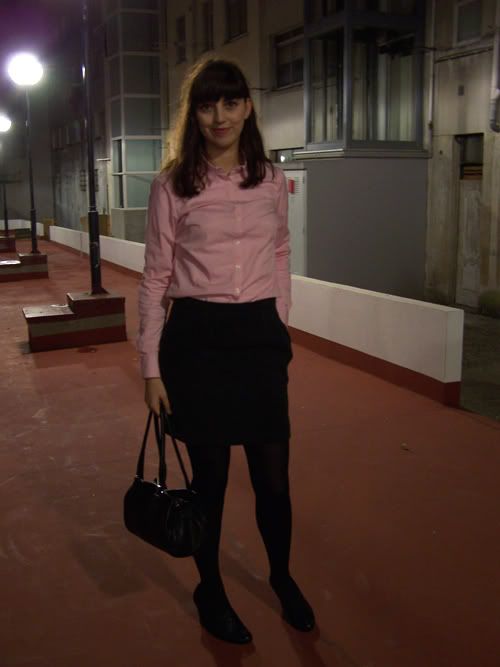 ¡Y aquí está la falda que me hicieron en el taller de costura! Es estupenda, he quedado contentísima. Muy bien cosida y rematada y tal como yo la quería. Repetiré sin duda alguna. Estoy planeando un abrigo con cuello de Peter Pan (en español es cuello bobo, no?) pero el color no acabo de decidirlo. Quizás rojo o azul marino no sé. ¿Qué me recomendáis?
(And here is the skirt I comissioned to a dressmaker (this sentence sounds odd haha, sorry)
.
It's great, I'm glad. Perfectly sewn and just as I wanted it to be. I'll repeat undoubtedly. I'm planning a Peter Pan collar coat but I'm still considering the colour. Maybe red or navy blue. What do you think?).
Que paséis una semana agradable, que el fin de semana largo está cerca.
P.D. ¿Celebráis Halloween? A mí me encantaría pero desafortunadamente en España aún no se ha adoptado mucho la fiesta. Es una lástima.
Un beso queridas.
(Have a nice week.
P.S. Halloween is close! It's a pity here in Spain we haven't adopted it. Sniff sniff.
Kisses dears).