Hola! El otro día me apetecía mucho una pizza y decidí probar la combinación champiñones, espinacas y atún. La masa la tenía congelada, aunque es casera, y la salsa de tomate salió muy rica. Si se le echa un poco de ajo bien picado gana mucho.



(Hi! The past week I was craving for pizza so I decided having a try with mushrooms, spinach and tuna combination. I had the dough in the frezeer, it was homemade though. The tomato sauce was tasty, garlic definitely helps!).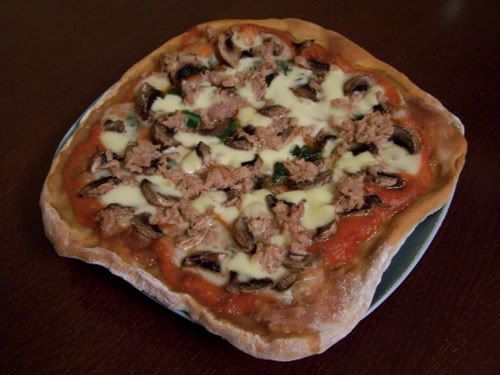 Como veréis, la receta es muy sencillita.
Para la masa se necesita lo siguiente:
200 ml de agua

templada
100 ml de leche
15 g de levadura fresca (la congelada que se vende en ultramarinos sirve igualmente)
1 cucharada sopera de aceite de oliva (si es virgen extra mejor que mejor!)
1 cucharadita de sal
1/2 cucharadita de azúcar
Harina

En un bol echáis un par de vasos de harina y, haciendo un hueco en el centro, vertéis el agua, la leche y la levadura. A continuación se echa la cucharada de aceite, la sal y el azúcar. Mezcláis bien y a amasar. Al principio la masa será bastante pegajosa, es normal. Poco a poco id añadiendo más harina mientras amasáis hasta que la masa quede elástica. Se cubre con un paño limpio en un lugar cálido durante no más de 30 min., de lo contrario resultaría muy difícil de manejar.

Mientras la masa sube es el momento para preparar la salsa de tomate y limpiar y cortar los demás ingredientes. Para la salsa lo mejor es utilizar tomates maduros,cortarlos en trozos pequeños y echarlos en una sartén a fuego lento con un poco de aceite. Tras unos diez minutos se añade ajo muy bien picado y se deja un rato más al fuego hasta que veamos que la salsa toma consistencia. Siempre a fuego bajo, ¡si no se pega!

Cuando la masa haya subido se le da la forma deseada y se mete en el horno 10 minutos a 220º. Después se echa la salsa de tomate por encima, la mozzarela fileteada y, en este caso, unas espinacas salteadas, champiñones y una lata de atún escurrida.

Se deja en el horno en torno a 15 minutos a la misma temperatura y ya está! En cualquier caso no abandonéis la pizza, porque cada horno se comporta de modo distinto aún con la misma temperatura, y estamos de acuerdo en que sería bastante desagradable que se nos quemase la cena jeje.

Si no os apetece o no tenéis tiempo de amasar podéis almacenar la masa congelada o comprar las bases de pizza en el supermercado. En cuanto a los ingredientes, echad mano de vuestra imaginación y veréis como rápidamente os aficionáis a la pizza casera!

Un beso preciosas.
(The recipe is quite simple.

For the dough you need:

200 ml lukewarm water
100 ml milk
15 g fresh yeast
1 table spoon olive oil
1 tea spoon salt
1/2 tea spoon sugar
Flour

Put two glasses of flour in a bowl. Make a hollow in the center and add water, milk and yeast. Then add oil, sugar and salt. Mix properly and knead. At the beginning the dough will be sticky, you just have to put more flour gradually and knead until it gets elastic. Cover the bowl and put it in a warm place for twenty minutes. Don't let it raise any longer, because it would get difficult to handle.

While the dough raises you can prepare the tomato sauce. You just need ripe tomatos, cut them into small pieces and cook in a pan with olive oil on a low flame. Ten minutes later add chopped garlic and keep cooking until the sauce thickens.

Once the dough is ready give it the desired shape and put in the preheated oven (200º C) for ten minutes. Then pour the tomato sauce, sliced mozzarella and, in this case, spinach, mushrooms and tuna. Cook for 15 minutes and ta-da!

I recommend not to leave the pizza alone, because each oven behaves in different ways even at the same temperature, and it wouldn't be nice to find a burnt pizza. If you're not in the mood to knead or just don't have the time, you can buy premade dough in the supermarket. Regarding the ingredients, appeal against your imagination and soon will became homemade pizza lovers!)